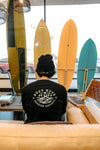 Suay Hype, the premium surfwear and apparel brand
Welcome to the Seaside Society, where we celebrate the carefree spirit of those who love to catch the waves, feel the sun on their skin, and breathe in the salty sea air. The Seaside Society new collection is designed for those who embrace the beach lifestyle and want to feel connected to a community of like-minded individuals.
Whether you're a seasoned surfer or simply enjoy the peacefulness of a sunset over the ocean, our collection has something for everyone. From comfy tees and longsleeve for a day on the sand to stylish swimwear and caps or sweaters, we've got you covered.
But the Seaside Society is more than just a clothing line. It's a way of life. We believe in the power of community, of coming together to share our love for the ocean and all that it represents.
So join us and become part of a movement that celebrates the beauty and freedom of life by the sea.
SHOP NOW
Sustainable since day one
At Suay Hype, we believe in the power of clothing to make a positive impact. That's why since day one, we've made a commitment to using only organic and sustainable cotton.
Not only does this help to protect the environment, our ocean and support ethical labor practices, but it also ensures that our clothing is soft, comfortable, and high-quality.
So when you choose Suay Hype, you can feel good knowing that you're making a choice that's good for both you and the planet.
You'll look good, feel good, and do good - all at the same time!

We plant new coral for every order
When you snag an item from our website, you're not just treating yourself to some seriously rad gear. You're also becoming a key player in our coral planting mission. Yep, every purchase fuels our action and financially supports the planting of brand-new corals.
READ MORE